UCL Pre-University Online Summer Course for High School Students
UCL is ranked 8th globally by QS 2022.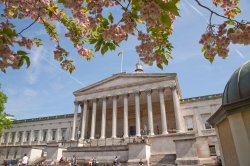 Course dates
-Online IT induction and introduction to the course: 22 July 2022. This will be a 3-hour induction and we will contact you to confirm the time.
-Classes: 25 July – 5 August 2022
This course is open to applications from high achieving 16–18-year-olds who want to:
-Experience studying at a global top 10 university (QS World University Rankings 2022).
-Develop key skills including critical thinking, presentation and report writing, independent study, as well as their ability to work in a team.
-Expand their use of academic English language and abilities in both academic writing and speaking.
-Learn how to conduct a short academic research report and prepare and deliver an academic presentation.
-Study in a range of disciplines from the sciences, arts, humanities and social sciences.
-Participate in optional virtual visits to places of cultural and historical interest around London.
-Connect and make friends with a diverse range of students from all over the world.
This summer course is unique as, unlike other summer courses, it doesn't just give you more knowledge about one subject, but includes a variety of subjects drawn from the sciences, arts, humanities and social sciences.
Eligibility
To be eligible to apply for the course, you'll have to meet the following criteria:
-be a high school student, in - or about to start - your second or final year of high school.
-be 16 - 18 years old for the duration of the course.
English isn't your first language.
-not hold an offer for the UCL Undergraduate Preparatory Certificates or a UCL degree.