Holiday and Weekend Courses in Musical Theatre, Drama and Filmmaking at one of the UK's leading drama schools!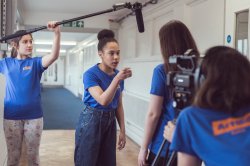 All ArtsEd Extra tutors combine teaching expertise with a wealth of professional experience, a mix that helps them to bring the best out in every participant, working hard to help them realise both their individuality and their full potential.
Saturday School Autumn Term BOOKINGS NOW OPEN!
Passionate about performing? Want to improve your skills, make new friends and experience ArtsEd's brilliant training?
Starting on 16th September, we have limited availability, so please book early to avoid disappointment.
Courses for ages 7 – 16
Musical Theatre
Drama
16 September - 2 December 2023
All our courses take place in our recently refurbished, professionally equipped studios and rehearsal spaces in our West London home.