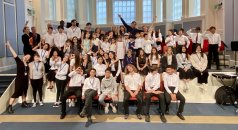 Philomel Music Academy
Description:
So much more than just a music course, Philomel Music Academy offers a unique opportunity to learn with a team of internationally-renowned performers and inspirational teachers. Be immersed in a week of wide-ranging musical activities, masterclasses and experiences, designed to enhance and improve all aspects of musicianship.

Our goals are to inspire young musicians beyond their solo playing and connect them with like-minded peers, to help participants overcome their musical challenges and to share our love and appreciation of music and performing. This expansion of musical horizons cannot be attained through any amount of practice.

Philomel Music Academy takes place each summer at the world-famous Yehudi Menuhin School in Surrey. For ages 9-17, Grade 4 and above.